GQ Magazine Recommends ForeverLawn for Outdoor Living Spaces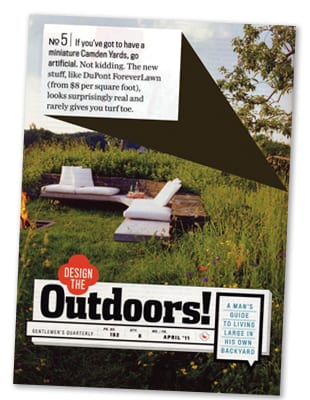 March 24, 2011 — For some great tips on creating superior outdoor living spaces, check out the April issue of GQ Magazine, available on newsstands and digitally for your iPhone or iPad today.
The article features over 30 tips for designing a cool outdoor retreat that is great for entertaining, gardening or just relaxing. Tip number 5 says, "If you've got to have a miniature Camden Yards, go artificial. Not kidding. The new stuff, like ForeverLawn (from $8 per square foot), looks surprisingly real and rarely gives you turf toe."
The April issue has Derek Jeter on the cover, so be sure to keep a look out for it and read the complete article!