The ForeverLawn Difference
Innovative solutions from the ground up.
Since the beginning, we've dared to be different. Today, our superior products, practice, and performance prove that it worked.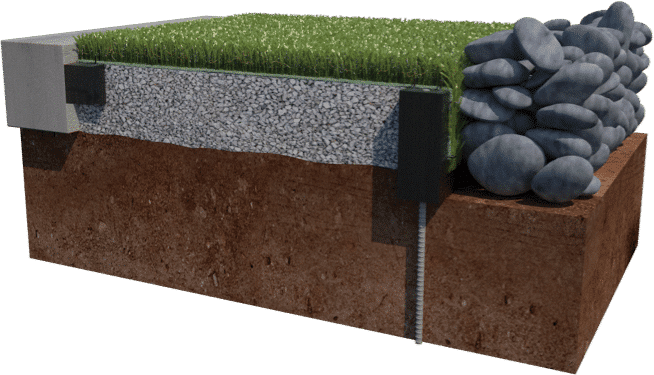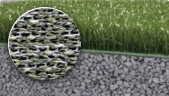 Proprietary knitted Flow-Through Backing™
Grass blades are knitted creating a mesh backing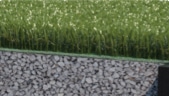 K9Grass by ForeverLawn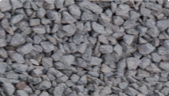 Highly drainable aggregate 3/8" x 1/2" angular stone
Typically depth of 3" - 4"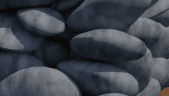 Softscape Surface
i.e. large decorative stones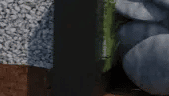 Nailer Board
Typically plastic 2x4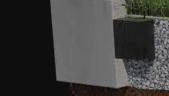 Hardscape Edge
Concrete sidewalk, curb, pavers, etc.
Why ForeverLawn
Our History
Each product at ForeverLawn incorporates years of testing and research, resulting in solutions with unmatched resiliency and aesthetics.
Our Warranty
With an industry-leading warranty, ForeverLawn establishes itself as the best choice, every time.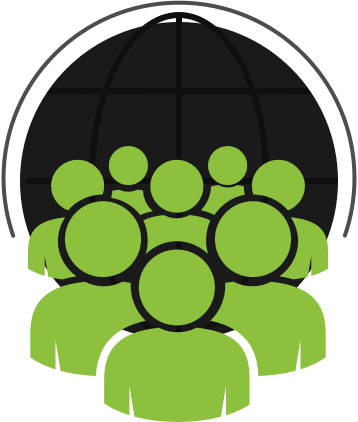 Our Team
Our dealers are the difference. With over 80 dealerships and 500 team members across the continent, ForeverLawn maintains a widespread presence rooted in local communities. ForeverLawn dealers do not just provide solutions: they specialize in them, from product knowledge to installation techniques. ForeverLawn is not just something our dealers provide; it's who they are, what they do, and why they're your best resource for synthetic grass solutions.
Find Your Local Dealer
Our Technology
We're not just ahead of the curve...we're defining it.
Leading and Learning
Leading an industry doesn't happen by accident; it happens by staying curious. It's stopping the car to look at a parking lot median or kneeling on a sports field to study the terrain. It's picking a handful of grass, throwing it down on the meeting room table, and asking, "How can our products look more like this?" Driven by this curiosity, we pioneer technological advances differentiating us from the rest of the industry.
Specific Problems, Unique Solutions
Instead of creating one product to meet a variety of needs, we engineer distinct product lines designed to thrive in their unique environments. To achieve this, we utilize blade development technology to construct specific structures for different product applications--including Memory Fiber™ Yarn for landscape products and slit film fibers for playgrounds and sports fields.
The Need for Nylon
Chasing quality over convenience, we aspire to improve the durability and resiliency of our products over time. As a result, ForeverLawn is leading the industry in the integration of nylon fibers into synthetic grass products. Starting with thatch, we continued to improve nylon fibers until we launched our first 100% nylon product: ForeverLawn Fusion—a lifelike, high-quality product designed to last through intense heat and reflection for extended amounts of time.
More Than Turf
ForeverLawn embodies the industry's best, recognizing that to manufacture solutions, we would have to go beyond the product itself. We began developing systems to expand our effectiveness in each unique market, and have invented proven, patented structures as a result—including our exclusive knitted backing, patents for K9Grass indoor drainage and SafetyCel fall-safe systems, antistatic blade technology, and more.
At ForeverLawn, Grass Without Limits® is more than a slogan. It's a commitment, and we're working hard to fulfill it every day.
Sustainability
Green beyond the surface.
ForeverLawn is committed to creating solutions that better our planet, one project at a time. We proudly engage in a variety of eco-friendly initiatives fostering healthy landscapes and maintenance practices, making our world a greener place for everyone.
Water conservation:
Our synthetic grass products require no water to maintain a beautiful appearance year-round. The Synthetic Turf Council estimates synthetic grass installed in North America conserves over three billion gallons of water annually1—a number that continues to rise with every ForeverLawn installation.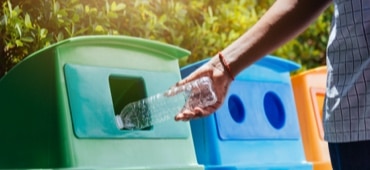 Recycling:
Creatively crafting our products for a better world, our premium backing system utilizes soybean biproducts, a 100% renewable resource, and recycled water bottles from Project Yellowstone. We also look for innovative ways to repurpose old or unused products, reducing waste as much as possible.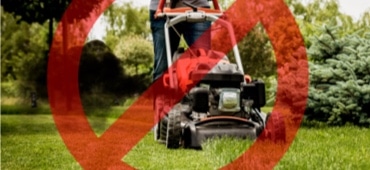 Reduced Emissions and Erosion:
Eliminating the need for mowing, fertilizing, pesticides and weed killers, our products contribute to an enhanced maintenance experience with fewer emissions released into the environment. Synthetic grass products also provide effective erosion control, preventing water pollution, soil dissipation, and wildlife habitat loss.

Our Latest
We've got exciting news about ForeverLawn Landscape Renew! We've recently launched Renew Terrain, a fresh reimagining of Renew Prime featuring a splash of tan in the thatch. The Renew you know and love, now with an added dose of realism.
Learn More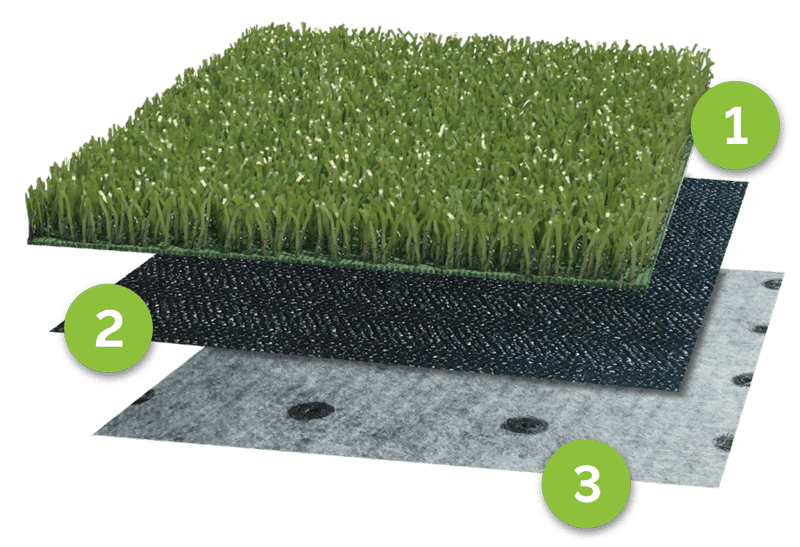 Our backing
Get behind the blades with our exclusive premium backing.
Layer 1: Each product backing begins with blades being tufted into a dual-layer woven material, which is then coated with a thin layer of polyurethane known as a "scrape coat." This process begins to lock blades in place. This is the basic product backing, and while most companies choose to stop after this coat, it is the foundational first step in our construction.
Layer 2: The scrape coat is covered with a frothed urethane, fully encapsulating the back stitch of blades. This protection ensures the integrity of the blades remains intact for the lifespan of the project, safeguarding against abrasion from stone and elements. This also provides padding, creating a more realistic feel underfoot. With this added dimensional stability, ForeverLawn products require far less infill and resist any form of shifting, contracting, or expanding.
Layer 3: The final layer of our premium backing is a geotextile nonwoven laminate, comprised of recycled water bottles from Project Yellowstone. This protects the first two layers from the elements, inhibits mold and mildew, and creates a grip surface for our unique micromechanical seaming system.
Backed with Benefits. The ForeverLawn premium backing provides unmatched benefits. It increases stability, protects the blades, and provides realism and value, all while extending product life. When you choose ForeverLawn, you choose a solution backed with benefits for years to come.
Our research
We don't just say our products are the best; we've proven it.

Our product development is centered around innovative technology improving longevity, functionality, and appearance. We conduct tests and start studies revealing superior solutions, and engineer our products to match.
View Our White Papers
Installation
Experts in the field.
A crucial component in every ForeverLawn solution, our installations provide the finest, longest-lasting projects possible. Since our products cover a variety of diverse needs, each ForeverLawn dealer is trained in application-specific methods which are continually improved and refined. It's an ongoing process led by our Installation Support Team: a group of experts dedicated to crafting the most efficient, effective, and impressive installations possible.
From beginning to end, ForeverLawn installations ensure captivating quality, every time.
Safety
Putting the customer first starts with our products' construction, creating solutions that prioritize safety and security throughout your project's lifetime. Antimicrobial, antistatic, ADA accessible: our synthetic grass offers a variety of safety features to fit your specific needs.
Want to learn more? The proof is in the papers. In addition to ForeverLawn-specific testing, these studies include industry-wide research illuminating one simple truth: synthetic grass is safe.
View Testing Data
Setting the standard in safety.
Antimicrobial
Antistatic
ADA Accessible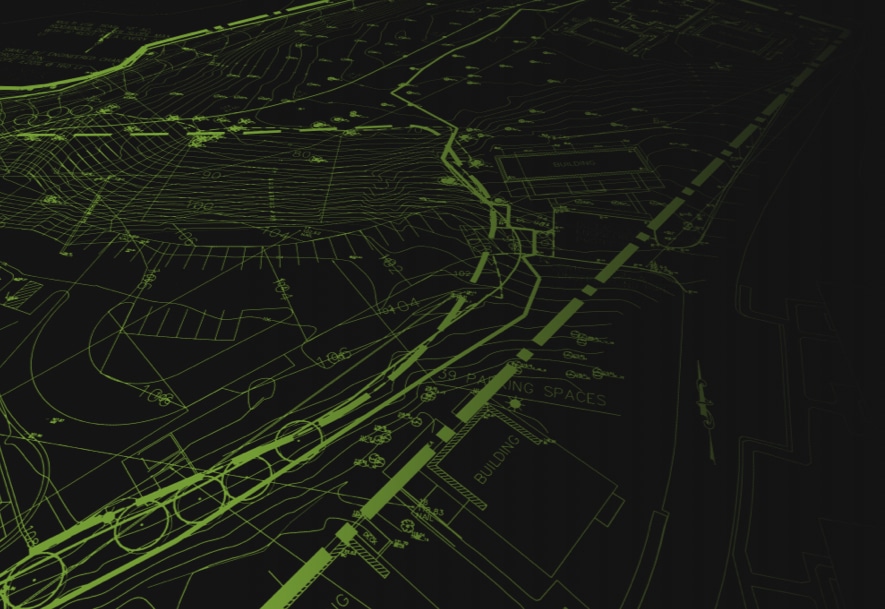 Architectural Specs
Drawn to the details.
To access ForeverLawn® design files, CAD drawings, specifications, and related documents, please visit our CADdetails portal below or call your local ForeverLawn dealer—we're happy to talk through the details with you!
CADdetails portal
FAQS
Here's a few commonly asked questions about our products. Don't see what you're looking for? Contact our Customer Support Team for more answers and information.
Is ForeverLawn environmentally friendly?
Absolutely! Synthetic grass is recommended by several state governments to aid in water conservation, with an estimated 3 billion gallons of water conserved annually through artificial turf applications. Synthetic grass also eliminates the need for pesticides, fertilizers, and emissions from lawn care equipment. Built sustainably, ForeverLawn uses soybean products (a 100% renewable resource) and recycled plastics from Project Yellowstone in product construction. 
Is ForeverLawn family-friendly?
ForeverLawn is perfect for family applications: the outdoors can now be enjoyed in any season or weather, it's great for entertaining, and our products also offer antimicrobial and antistatic features for a safer play experience. 
Do ForeverLawn products hold water?
Nope. ForeverLawn leads the industry in product drainage, especially with knitted products like K9Grass which offer 100% edge-to-edge drainage. 
Are ForeverLawn products pet-friendly?
Yes! We offer the only artificial grass designed specifically for dogs, and all our products are both animal-friendly and nontoxic. Plus, pet urine won't stain products—goodbye dry patches, hello gorgeous green.
Does ForeverLawn require maintenance?
ForeverLawn is an extremely low-maintenance solution, and typically the only upkeep required is occasionally grooming and picking up debris. Goodbye yardwork! 
How do I get started?
Contact us today to get a free quote from your local dealer. We can't wait to hear from you!