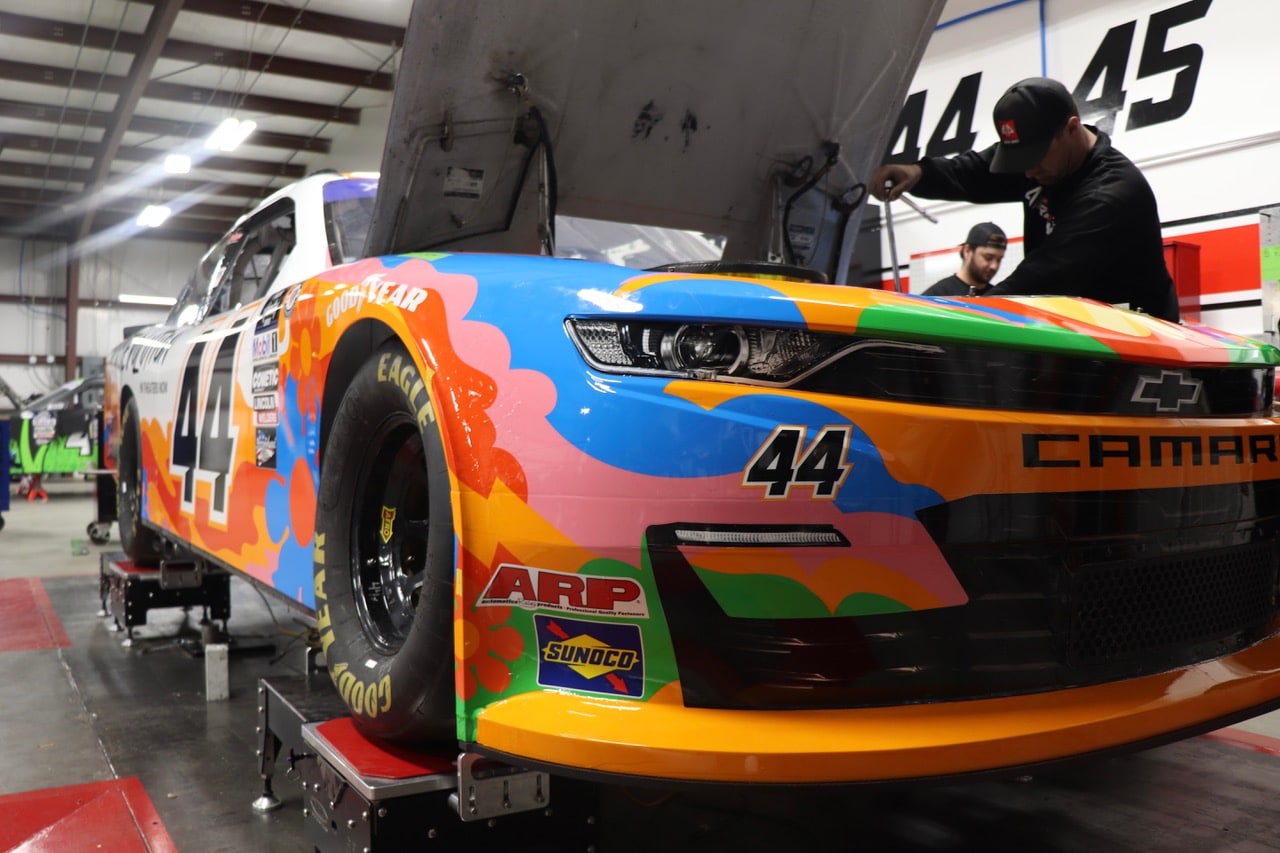 Jesus Revolution Car to Debut at Auto Club Speedway
Jeffrey Earnhardt to promote "Jesus Revolution" feature film through distinctive paint scheme on the No. 44 Chevy Camaro
February 22, 2023 (FONTANA, Cali.) –News Direct– ForeverLawn
ForeverLawn, Inc.® is excited to announce that Jeffrey Earnhardt will be racing at Auto Club Speedway in Fontana, California. This is the second race of the season for Earnhardt and the Alpha Prime Racing team and will feature a unique paint scheme promoting the new Jesus Revolution feature film. The race will be streamed live on Saturday, February 25 at 5:00 p.m. EST on FS1.
The car is fully dedicated to promoting the premiere of the Jesus Revolution movie, displaying a psychedelic design drawn from the countercultural "hippie" movement popularized in the early 70s. The Jesus Revolution film tells the true story of Christian revival during this era through key cultural figures including Lonnie Frisbee, Greg Laurie, and Chuck Smith.
We are very grateful to the team at ForeverLawn for sponsoring Jeffrey Earnhardt's car promoting Jesus Revolution," says Harvest Church Senior Pastor Greg Laurie. "Our prayer is that through this movie, we will see another revival of people all around the world turning to Jesus.
The vibrant new No. 44 paint scheme will also be featured the following week at Las Vegas Motor Speedway. Devoid of any sponsorship, the car is completely funded by direct donations from individuals and small businesses committed to spreading the "message of hope" shared through this feature film.
Ultimately, we want to bring the gospel message to a nation that desperately needs it," says JenniLee Karmie, ForeverLawn NASCAR Facilitator. "Our initial goal was to raise enough money to run the car in Fontana, but we stepped out in faith and added a second race at Las Vegas. We are excited and grateful to partner with Motor Racing Outreach to achieve this goal and further extend our reach.
A donation page has been set up in conjunction with Harvest Christian Fellowship, where individuals are able to "join the movement" and make a tax-free contribution. All proceeds will aid in funding the Jesus Revolution car and supporting Motor Racing Outreach (MRO) in the work they do for NASCAR drivers, teams, and families.
We're thrilled to come alongside Jeffrey Earnhardt, Alpha Prime Racing, and ForeverLawn to promote the release of this movie," states MRO President and Senior Chaplain Billy Mauldin. "When the Black and Green Grass Machine transforms with this new paint scheme fans everywhere are going to realize—many for the first time—that in the 1970s a revival broke out in Southern California and is still transforming the world today. It was, and is, the Jesus Revolution.
Viewers can follow Earnhardt and the ForeverLawn car by watching on FS1 or on Instagram, Twitter, and Facebook using #blackandgreengrassmachine.
To learn more about Jesus Revolution and "join the movement," visit harvest.org/give-hope.
About ForeverLawn ForeverLawn® improves spaces and communities through innovative synthetic grass solutions. The sole provider of high-performance synthetic turf developed in direct response to consumer demands, each product is engineered to solve unique needs and desires while maintaining superior standards and natural aesthetics.
Want to be a part of something bigger? Learn how you can be a person of impact through business ownership opportunities with ForeverLawn. For more information, call 866.992.7876, or visit foreverlawn.com.