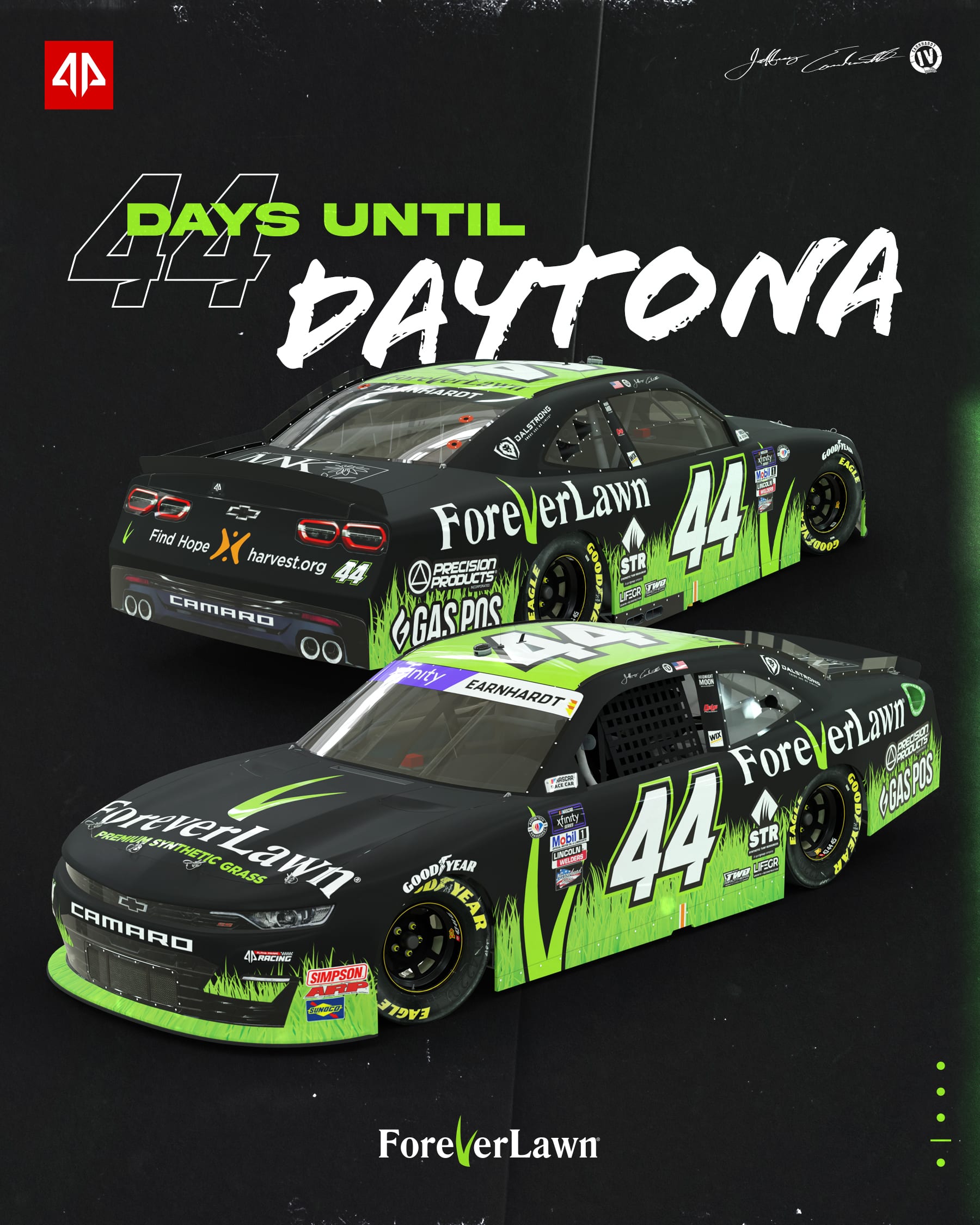 ForeverLawn Renews Partnership with Jeffrey Earnhardt for Full-Season NASCAR Xfinity Series in Alpha Prime Racing's No. 44 Chevrolet Camaro
Reimagined Black and Green Grass Machine to Debut at Daytona
January 5, 2023 (LOUISVILLE, Ohio) –News Direct– ForeverLawn
ForeverLawn, Inc.® has announced a reimagined paint scheme for their sponsorship of Jeffrey Earnhardt and the Black and Green Grass Machine for the 2023 NASCAR Xfinity Series season. Partnering with Alpha Prime Racing, Earnhardt will pilot the team's No. 44 Chevrolet Camaro, becoming the first full-time racer for the team since the 2021 season. Their debut race will be at Daytona International Speedway on February 18 in forty-four days.
After a strong 2022 season, we are excited to get back on the track in 2023," says Jeffrey Earnhardt. "We're with a new team, have full season of racing, and a sleek new look. I'm pumped to race every week this season and look forward to building on last year's momentum.
The sixteen races featuring the Black and Green Grass Machine paint scheme are made possible in part by associate sponsors GasPOS, Precision Products, and STR. The Alpha Prime No. 44 Chevrolet Camaro will also feature additional sponsors Dalstrong, LifeGR, and Two Brothers Auto Group.
We're so excited to have Jeffrey and ForeverLawn join the Alpha Prime team," says Tommy Joe Martins, President of Alpha Prime Racing. "Our designer Ryan Pistana has done a great job with our paint schemes, and this car is certainly no exception. We can't wait to see the No. 44 Black and Green Grass Machine hit the racetrack next month!
The Black and Green Grass Machine will continue spreading the message of hope by featuring returning partner Harvest Ministries and new partner The MNK Legacy Project. The nonprofit is centered on providing resources for individuals to tangibly serve their communities and sharing their partners' stories to maximize impact and influence.
"We couldn't be more excited to see Jeffrey on the track full time in 2023," says Derek Taylor, head of ForeverLawn-NASCAR relations. "Jeffrey has worked hard, is an unbelievable advocate for the sport, and deserves to run a full season. We are thrilled to be partnering with Alpha Prime Racing. We believe this season will bring much success, and we can't wait to hit the track at Daytona!"
Viewers can follow Earnhardt and the ForeverLawn car at Daytona International Speedway by watching on FS1 or on Instagram, Twitter, and Facebook using #blackandgreengrassmachine.
About ForeverLawn ForeverLawn® improves spaces and communities through innovative synthetic grass solutions. The premium choice for synthetic surfacing, each product is engineered to solve unique consumer needs and desires while maintaining superior standards and natural aesthetics.
Want to be a part of something bigger? Learn how you can be a person of impact through business ownership opportunities with ForeverLawn. For more information, call 866.992.7876, or visit foreverlawn.com.