ForeverLawn featured on Extreme Makeover: Home Edition – PA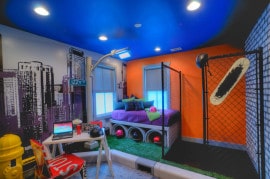 May 23, 2011 — When the popular TV program Extreme Makeover: Home Editionrequested ForeverLawn artificial grass for an upcoming project, we were pleased to hear that the project would be assisting a military family in need. The Dickinson family was coping with a father serving in Afghanistan and a daughter who was sick due to the conditions of their home, and the team at Extreme Makeover: Home Edition was there to help.
The team built a brand new home for the Dickinsons, which included a very innovative street-themed concept for one of the children's bedrooms. Izzy's room focused on skateboarding and an urban feel, bringing the look of a city street inside.
By incorporating ForeverLawn artificial grass into the project, the team was able to recreate the look of natural grass with a cleanable, durable surfacing product suitable for a child's bedroom.
To view episode 22 of Extreme Makeover: Home Edition and learn more about this project, click here.
For more information about how ForeverLawn artificial grass can help you create an innovative indoor scene, contact us.