Fusion Featured in Hotel Management – PA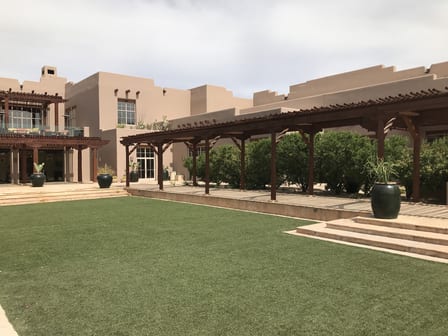 As guests increasingly expect the comforts of home when on the road, technology is helping hotels evoke a residential feel with a decidedly commercial practicality, using "wooden" floors made of vinyl and grassy exteriors made of nylon. The new flooring products can look and feel like natural products one would find inside (or outside) of a private home, but offer the durability of commercial application.
Artificial Nature
Maintaining an attractive lawn at hotels can be challenging, especially given the differences in the weather from season to season. Louisville, Ohio-based ForeverLawn sells artificial turf that is gaining (literal) ground with hotels, letting guests walk on synthetic grass without getting their shoes dirty.
One of ForeverLawn's biggest releases in recent years is the company's Fusion line, which is made out of nylon. "Most popular natural-looking artificial turfs are made out of polyethylene," said ForeverLawn landscape brand leader Jim Karmie. "Polyethylene tends to be a softer product and looks more natural. Nylon has a tendency to have a little bit of a shine to it." The Fusion line, then, has undergone an extrusion process that reduces the shine and makes it look natural, like a polyethylene product.
Perhaps most importantly, artificial turf that is made out of nylon has a higher heat resistance than polyethylene—an important factor to consider, Karmie said, as more buildings adopt "low-E" glass windows with a thin coating that reflects heat. Polyethylene lawns could start to shrink or distort from the reflected heat from these windows under 200 degrees, he explained, but the nylon product did not show any deformation until about 400 degrees.