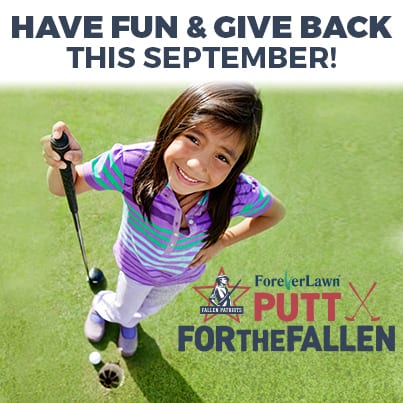 Putt for the Fallen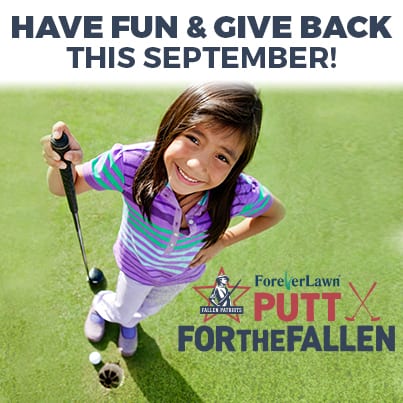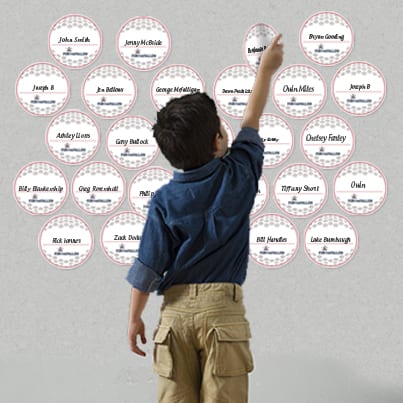 Putt for the Fallen
The 2nd annual Putt for the Fallen event is a nationwide fundraiser sponsored by ForeverLawn that directly benefits the Children of Fallen Patriots Foundation. For the entire month of September, those who visit participating Family Entertainment Centers may make a donation. Upon that donation, participants are given a coupon for a free round of miniature golf on their next visit, and may write their name on a paper ball to be displayed.
What is the Children of Fallen Patriots Foundation?
Are you aware that over 19,500 children have lost an active duty parents in the military over the past 35 years? Because the parents of these children were so brave and willing to give their lives for our country, Children of Fallen Patriots Foundation wants to give back to the loved ones of those fallen soldiers. With your help and support, the foundation provides children of fallen soldiers with hope and opportunity by raising funds for their college education. By donating money to the children of fallen soldiers, our country is giving back in a very special way to those that gave their lives for us.
How Do You Participate?
By visiting any of the participating locations listed on the Putt for the Fallen website, you may make a donation and receive a coupon for a free game of mini golf.
What better way to honor families of fallen soldiers than by spending quality time with your family playing a game of miniature golf. Putt for the Fallen is sponsored by ForeverLawn, who offers a professional-grade artificial putting turf, GolfGreens, that is both easy and fun to putt on.
For more information on the Putt for the Fallen fundraiser or the Children of Fallen Patriots, visit www.puttforthefallen.com.