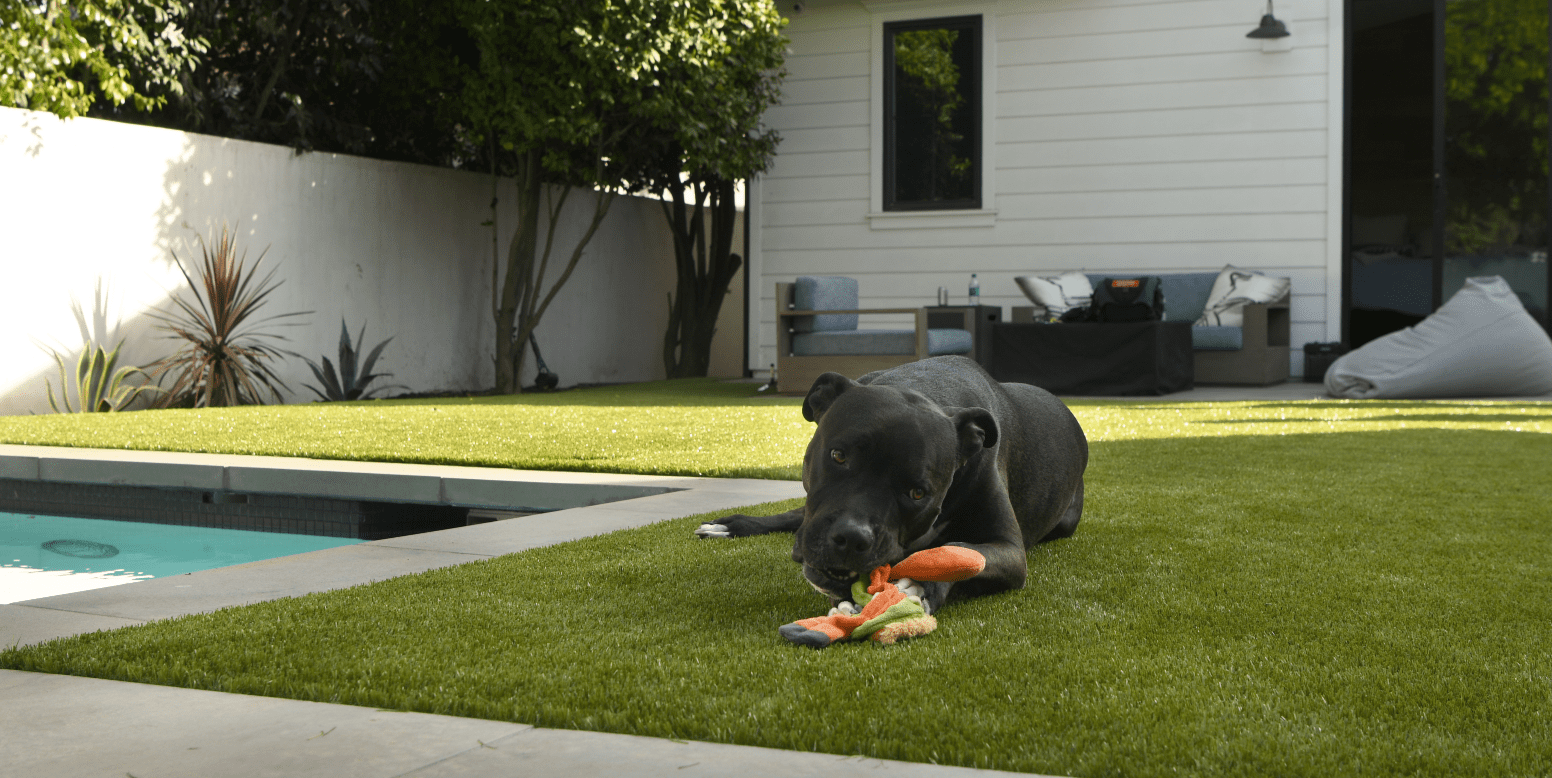 Brian and Danielle Samuels' Yard Gets a New Leash on Life with K9Grass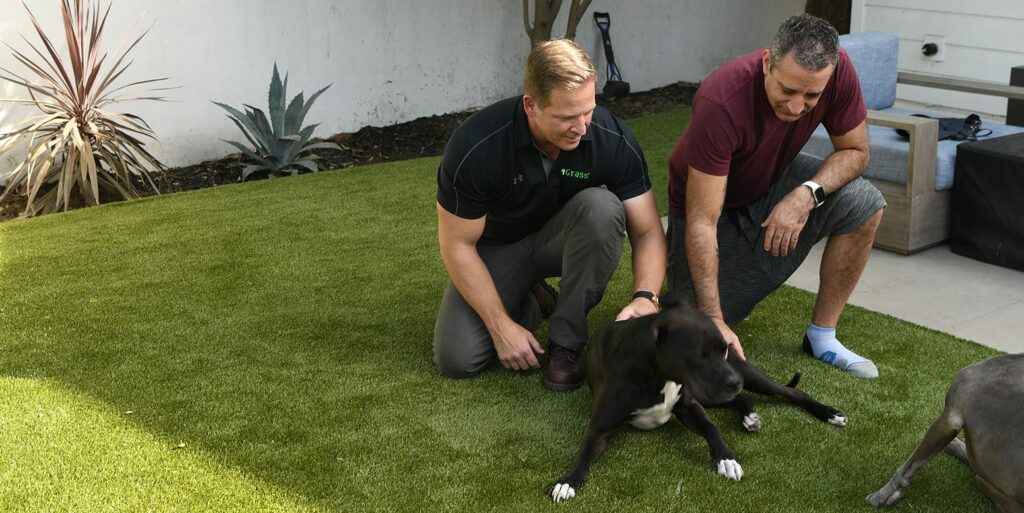 Los Angeles residents Brian and Danielle Samuels are no strangers to artificial grass products thanks to Brian's friend and client Jason Cameron, television host and spokesman for ForeverLawn®. It only made sense that they would go with the best when they decided to remodel their backyard to fit the unique needs of everyone in their family, even the ones with four paws and a tail.
Issues with a Natural Grass Lawn
Their original yard had several issues. A grass lawn is hard enough to maintain in a drought-prone state like California, especially with the wear and tear that comes from having two dogs and a child in the family. According to Danielle Samuels there were "a lot of brown patches and dead spots. The dogs were eating the grass…and then throwing up." And it didn't stop at the door either. Dogs tend to bring whatever they picked up outside with them indoors. Danielle said they were bringing in a lot of mud and bringing it onto the bed, resulting in a lot of laundry and cleaning.
The Synthetic Grass Designed Specifically for Dogs
To solve these problems, they chose ForeverLawn and transformed their backyard with K9Grass®, the synthetic grass designed specifically for dogs. This turf has been engineered from the ground up to service the needs of canines and their owners alike.
First off, K9Grass synthetic turf is easily cleanable. Short, dense blades make for easy removal of solid waste, while the revolutionary knitted, flow-through backing easily disposes of any liquid waste. The drainable no-infill design allows for a variety of cleaning methods, and the AlphaSan® antimicrobial technology makes the turf safe for both kids and pets. All of these design factors work together to create a more sanitary and pleasant-smelling backyard experience. "Because it's specifically made for dogs, you don't get the smell that you get with other synthetic turf," said Cameron.
Of course, aesthetics matter as well. The primary blades are made of polyethylene fibers to give a soft, natural feel to the turf. A secondary nylon blade adds durability and heat resistance. Both are essential factors in increasing the lifespan of outdoor turf, especially in sunny Los Angeles. The two-tone yarn construction creates a beautiful, durable, natural-looking lawn with no brown or dead spots in sight.
The new yard was installed by ForeverLawn Pacific Coast, a dealership that services parts of southern California. "They did an amazing job," says Jason Cameron. "Their customer service is second to none. They really take care of their people and explain everything. If there's any problems, they come right back and address it."
Thanks to ForeverLawn Pacific Coast and K9Grass, the Samuels family has a safe and easy-to-maintain backyard for everyone to enjoy, even their four-legged friends. Learn more about the project here.
About ForeverLawn
ForeverLawn provides innovative synthetic grass products to create better landscapes worldwide. In areas where real grass is difficult to grow or maintain—due to high traffic or poor conditions—ForeverLawn offers a realistic alternative that is beautiful, functional, and durable. In addition to its landscape lines, ForeverLawn also offers specialty products including K9Grass®, SportsGrass®, Playground Grass™, GolfGreens®, and SplashGrass™.
ForeverLawn—Grass without limits®.