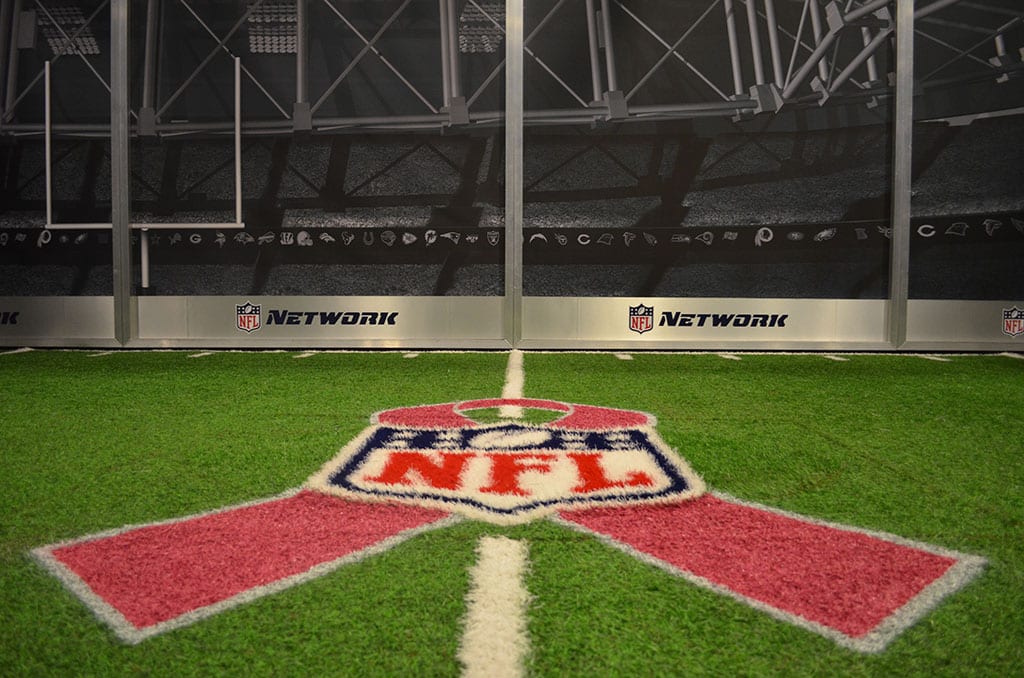 ForeverLawn and the NFL Network go pink for Breast Cancer Awareness
October 17, 2012 (Albuquerque, NM) – ForeverLawn is proud to join the NFL in support of breast cancer awareness. To prepare for the launch of the breast cancer awareness campaign, the NFL Network contacted ForeverLawn to update the existing ForeverLawn turf in their television studio to display the pink ribbon breast cancer awareness logo. The logo and turf can be seen throughout the month of October on NFL Network programs.
According to nfl.com/pink, "The NFL, its clubs, players and the NFL Players Association are proud to support the fight against breast cancer. Our campaign, "A Crucial Catch", in partnership with the American Cancer Society, is focused on the importance of annual screenings, especially for women who are 40 and older. Throughout October, NFL games will feature players, coaches and referees wearing pink game apparel, on-field pink ribbon stencils, special game balls and pink coins – all to help raise awareness for this important campaign. All apparel worn at games by players and coaches, along with special game balls and pink coins will be auctioned off at NFL Auction, with proceeds benefiting the American Cancer Society's Community Health Advocates National Grants for Empowerment (CHANGE) program. The CHANGE program provides outreach and breast cancer screenings to women in underserved communities. The NFL markets being supported in the first year of the program are Atlanta, Baltimore, New England, Charlotte, Chicago, Cleveland, Denver, Detroit, Indianapolis, Jacksonville, Kansas City, New Orleans, New York, Philadelphia, Pittsburgh, Seattle, and Washington, DC."
ForeverLawn provides innovative synthetic grass products to create better landscapes worldwide. In areas where real grass is difficult to grow or maintain—due to high traffic or poor conditions—ForeverLawn offers a natural-looking alternative that is beautiful, functional, and durable. In addition to its landscape lines, which include the premium ForeverLawn® Select Synthetic Grass products, ForeverLawn also offers specialty products including SplashGrass, K9Grass, SportsGrass, Playground Grass, and GolfGreens.
ForeverLawn—Grass without limits.