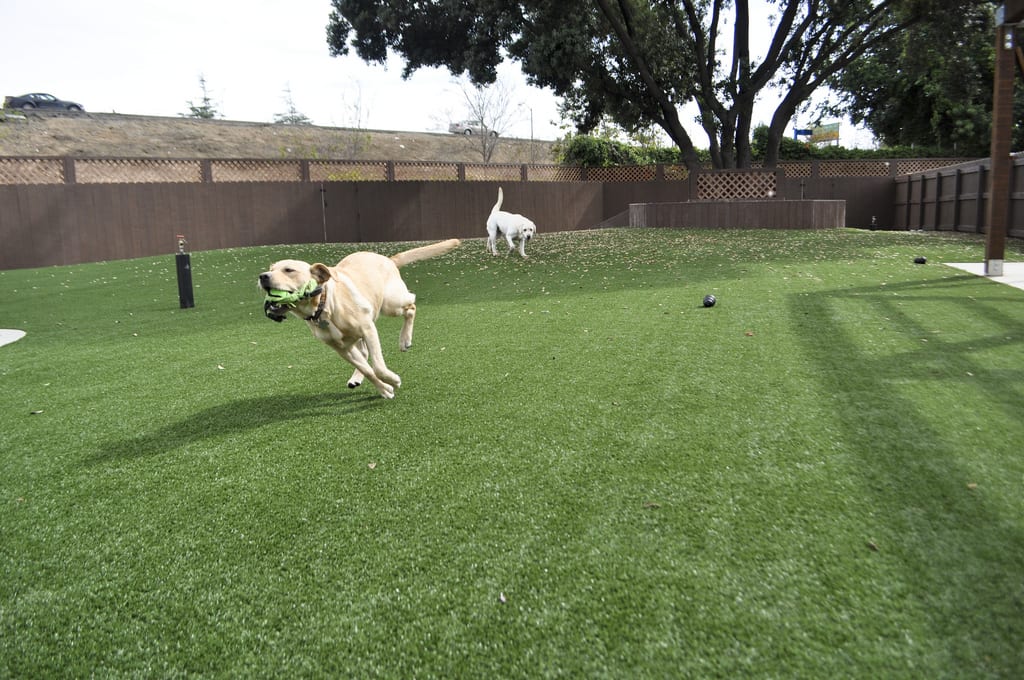 Hattie's Doggie Day Care & Boarding wins 2012 STC Field of Dreams award!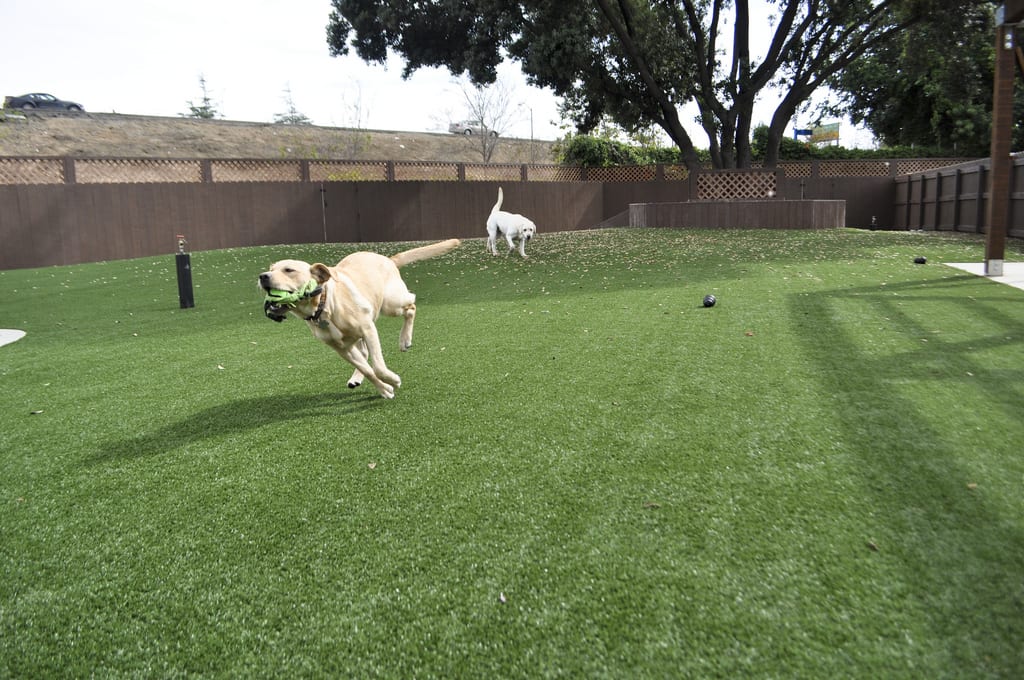 November 19, 2012 (Albuquerque, NM) – ForeverLawn congratulates Hattie Larlham Doggie Day Care & Boarding on winning a 2012 STC Field of Dreams award! We are proud that K9Grass by ForeverLawn has made a difference, and that we had the opportunity to help the Hattie Larlham organization continue their great work serving people with disabilities.
Hattie Larlham Doggie Day Care & Boarding in North Canton, Ohio, is not your average kennel. This field of dreams is a home away from home for dogs that features a unique artificial grass designed specifically for dogs; but it is much more than that. Hattie Larlham Doggie Day Care & Boarding is a place where adults with developmental disabilities can pursue a career in animal care and share their love for animals in a safe, nurturing environment. Job coaches work with the employees with developmental disabilities to teach them to care for the dogs. The employees gain self-confidence and improve their social and communication skills through their jobs duties.
Hattie Larlham Doggie Day Care & Boarding prides itself on providing individualized attention to each dog. The cage-free pet boarding operation also generates vital revenue for the non-profit organization that provides care to 1,500 children and adults with developmental disabilities in the area. Hattie Larlham's services not only benefit the people the organization serves, but also their families, loved ones and communities.
The facility has 22 rooms for the dogs to stay in, three air-conditioned play areas inside and two outdoor play areas featuring our K9Grass . In the past the facility utilized a variety of surfaces such as black top, natural grass, and pea gravel in the outdoor pet areas, but these all had drawbacks due to the particular challenges of high-traffic dog areas.
When Rick Parson, regional director of Hattie Larlham Doggie Day Care & Boarding, learned of K9Grass, it was something he knew would offer countless benefits to his facility. Being a non-profit organization that barely broke even, Hattie Larlham did not have a budget for K9Grass. Parson saw that the added cleanliness offered by K9Grass would be a big plus to his customers, and would also provide more sanitary conditions for his workers. The soft surface was more comfortable for the dogs and the caregivers to sit, roll, and play on than any of the hard surfaces they had used in the past, and in a facility like his where pets and people have such close contact, this was an important consideration. To help support this worthy community resource, we donated a large portion of the project to accommodate the facility's limited budget.
"We now have 40 individuals with disabilities employed at the facility, and have been able to provide 40,000 hours of fair wages for these great people," said Parson. "The only way we can continue to provide these services is by increasing our revenue, and it's a struggle just to break even. Thanks to this donation, our facility is better, cleaner, neater, and our customers love it. Today we have 30 dogs in the facility living in harmony and hanging out with the individuals. K9Grass has really changed our lives."
According to Parson, what makes the facility truly unique and different from other kennels is the contact the pets have with the people who care for them. It's a win-win situation for both the caregivers and the pets, and also provides peace of mind to pet parents looking for a safe, loving place for their pets when they are traveling or need a helping hand. "It makes people feel good to know that they are helping others in their community who need it, and that their pets are also benefiting," said Parson.
This mission of caring for people with developmental disabilities began when founder Hattie Lena Gadd Larlham took a neighbor's child who was born with inoperable hydrocephalus into her home to provide care. Word spread about what she was doing, and the demand for care led her to take more children into her home. Before long, she had a waiting list of 100 children, leading her to form the Hattie Larlham Foundation.
Today, the organization provides residential care to 130 children and young adults at the Hattie Larlham Center for Children with Disabilities in Mantua, Ohio, and to adults at community-based homes located throughout Ohio.
Hattie Larlham Doggie Day Care & Boarding has been recognized for its work by a variety of sources. In 2010, the facility won the award for best pet boarding in the Akron-Canton Fox 8 Hotlist. Additionally, Hattie Larlham Doggie Day Care & Boarding was singled out as the winner in the pet boarding category in the 2010 Beacon's Best awards voted on by the readers of the Akron Beacon Journal.
About ForeverLawn
ForeverLawn provides innovative synthetic grass products to create better landscapes worldwide. In areas where real grass is difficult to grow or maintain—due to high traffic or poor conditions—ForeverLawn offers a natural-looking alternative that is beautiful, functional, and durable. In addition to its landscape lines, which include the premium ForeverLawn® Select Synthetic Grass products, ForeverLawn also offers specialty products including SplashGrass, K9Grass, SportsGrass, Playground Grass, and GolfGreens.
ForeverLawn—Grass without limits.