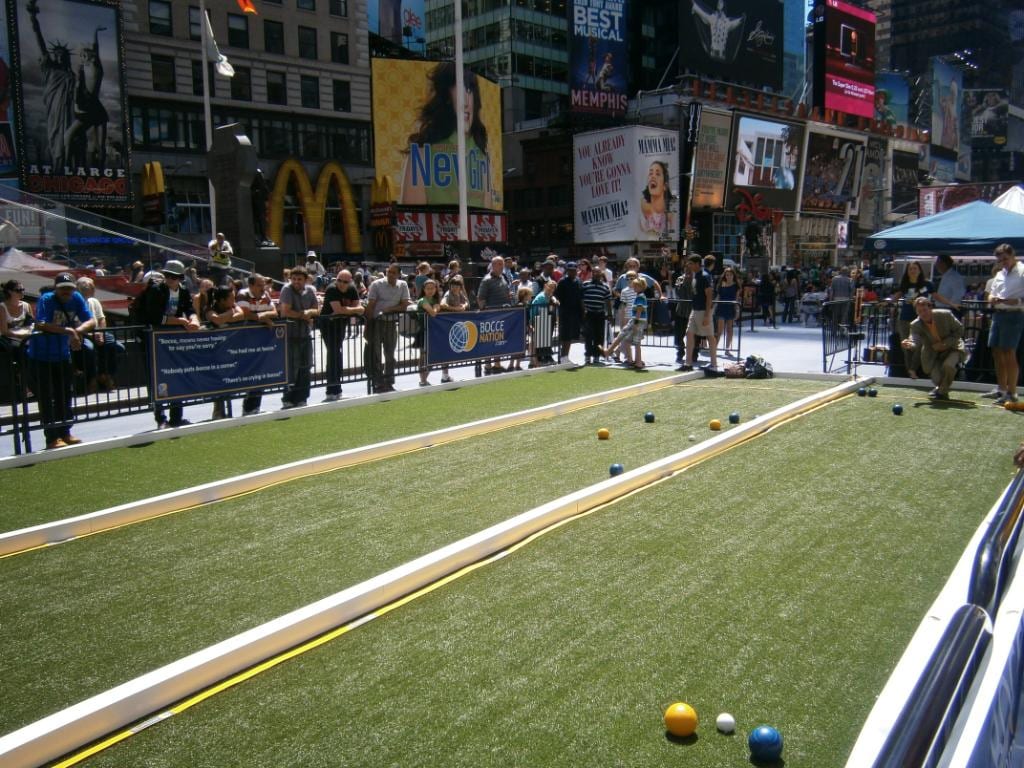 ForeverLawn and BocceNation.com Create a Bocce Experience in Times Square for NYC International Film Festival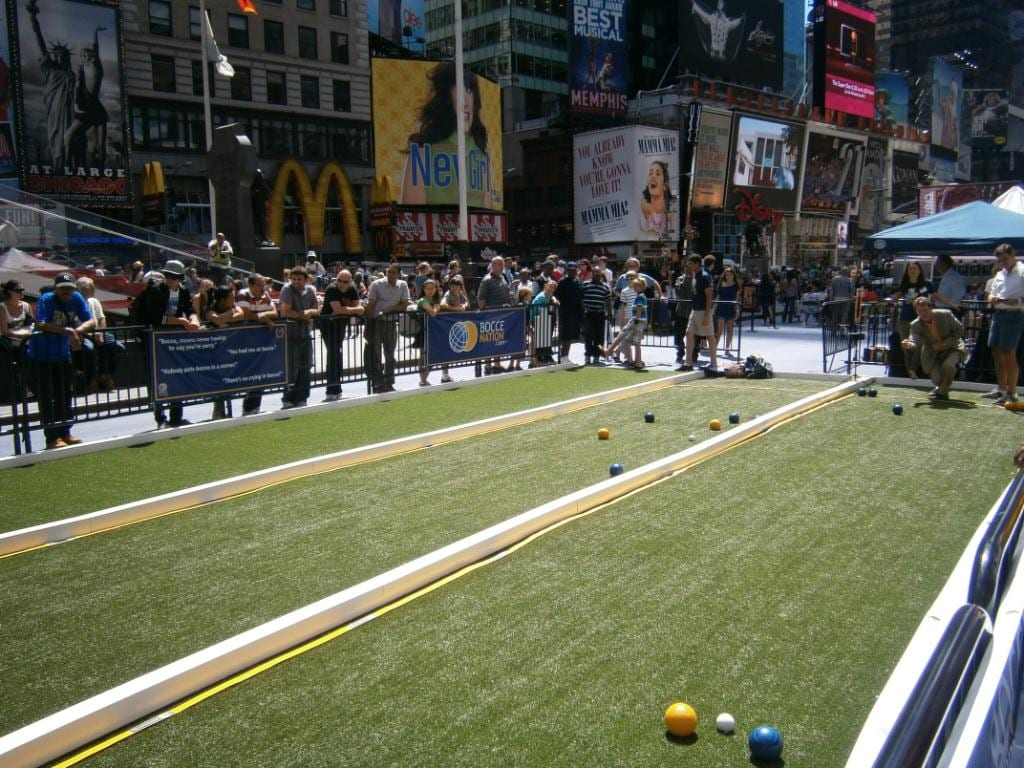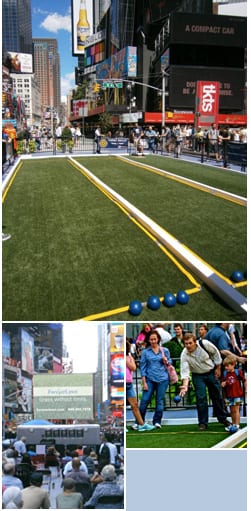 August 30, 2011 (Albuquerque, NM) — ForeverLawn, the leading artificial turf company, installed a premium synthetic grass bocce court in New York's Times Square last week as part of the New York City International Film Festival. ForeverLawn partnered with BocceNation.com to construct an interactive bocce court in the bustling city location, where festival participants, tourists, and locals could play and learn about the centuries-old game. The ForeverLawn bocce court was constructed adjacent to the outdoor movie screening area, where 220 films from 27 countries aired during the festival, which took place from August 19 – 25. The all-weather turf by ForeverLawn provided players with a soft, comfortable grass surface that was well-suited to the game of bocce and durable enough to withstand the heavy foot traffic in Times Square.
"ForeverLawn is a great surface for bocce play. It's great looking, durable and is pretty much maintenance free," said John Lehmann, president of BocceNation.com. "We recommend ForeverLawn turf as an ideal bocce court surface for BocceNation.com bocce. Bocce balls roll true and the surface is comfortable to play on. These courts can be installed quickly and virtually anywhere – enabling bocce to be played indoors, in urban areas or even in a backyard. ForeverLawn brings bocce to a bigger audience."
Bocce Grass by ForeverLawn provides and excellent surface for the game of bocce due to the unique construction and design of the turf. The grass features a dense blade structure with a textured thatch, in a unique, short blade construction that provides the right amount of resistance and surface tension for a realistic bocce ball roll and bounce. This new product provides the required cushioning needed to protect the bocce balls, which could crack or break on a hard surface like concrete. According to Lindsey Lehmann of BocceNation.com, other artificial turf products require additional padding to create the soft surface needed for a bocce court. "The ForeverLawn product worked amazingly well on top of concrete, and didn't need any padding beneath it," said Lehmann. "The ForeverLawn court was comparable to a croquet lawn, which provides a suitable amount of resistance and a smooth roll."
ForeverLawn offers several high-end landscape turfs. ForeverLawn® Select Synthetic Grass offers homeowners and commercial properties a lush, beautiful grass landscape that requires no water, fertilizer, or mowing.  The all-weather turf performs equally well in extreme heat and heavy snowfall, and requires very little maintenance to stay lush year round.
ForeverLawn offers a number of specialty products engineered for specific sports and recreation applications, including Playground Grass, SportsGrass, GolfGreens, and K9Grass. Well known for their industry leadership, ForeverLawn has contributed several important innovations to the turf industry, including the development of the first ASTM safety-rated artificial grass system for playgrounds, called Playground Grass. A soft, durable, safe surface, Playground Grass is certified by the International Play Equipment Manufacturers' Association (IPEMA) and is safety-rated by the American Society for Testing and Materials (ASTM) for fall-heights up to 12 feet. Continuing to innovate in the playground space, ForeverLawn announced its most recent contribution to the playground industry earlier this month, called XStatic™ antistatic technology. The patent-pending technology reduces static on the playground surface, which is important to children with hearing aids or other electronic devices. For more information about Playground Grass by ForeverLawn, visit playgroundgrass.com.
For football fields and other high-impact sports facilities, ForeverLawn offers its SportsGrass line of artificial turf products. Engineered for durability and high performance, SportsGrass provides a consistent, cushioned grassy surface ideal for athletes. The turf of choice for a growing number of regulation high school football fields, city parks, and indoor sports facilities, SportsGrass provides an incredibly natural underfoot feel with reduced infill flyout. For more information about SportsGrass by ForeverLawn, visit sportsgrassturf.com.
Even dogs can benefit from the recreational grass surfaces offered by ForeverLawn. The company's K9Grass product line is designed for use with dogs, and offers unique features such as a knitted flow-through backing, durable blades, antimicrobial protection, and a no-infill design, making it the ideal surfacing option for dog parks, kennels, pet boarding facilities, and vet clinics, both indoors and out. For more information about K9Grass, visit k9grass.com.

About ForeverLawn
ForeverLawn provides innovative synthetic grass products to create better landscapes worldwide. In areas where real grass is difficult to grow or maintain–due to high traffic or poor conditions–ForeverLawn offers a realistic alternative that is beautiful, functional, and durable. In addition to its landscape lines, ForeverLawn also offers specialty products including K9Grass, SportsGrass, Playground Grass, GolfGreens, and SplashGrass.
ForeverLawn–Grass without limits.