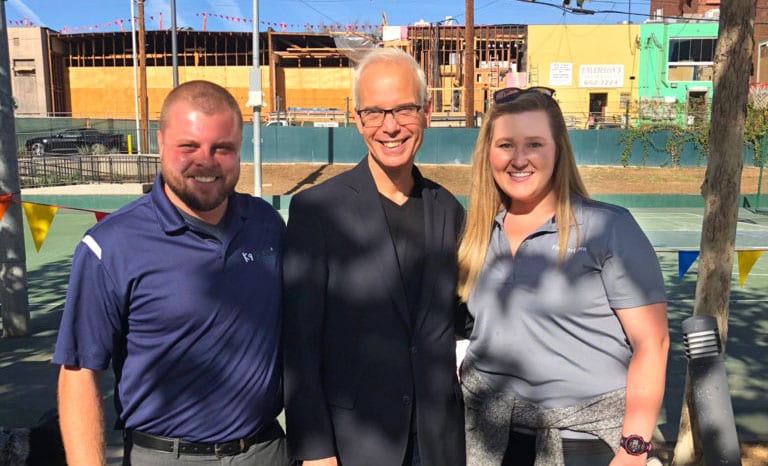 New Dog Parks at West Hollywood Park Featuring K9Grass by ForeverLawn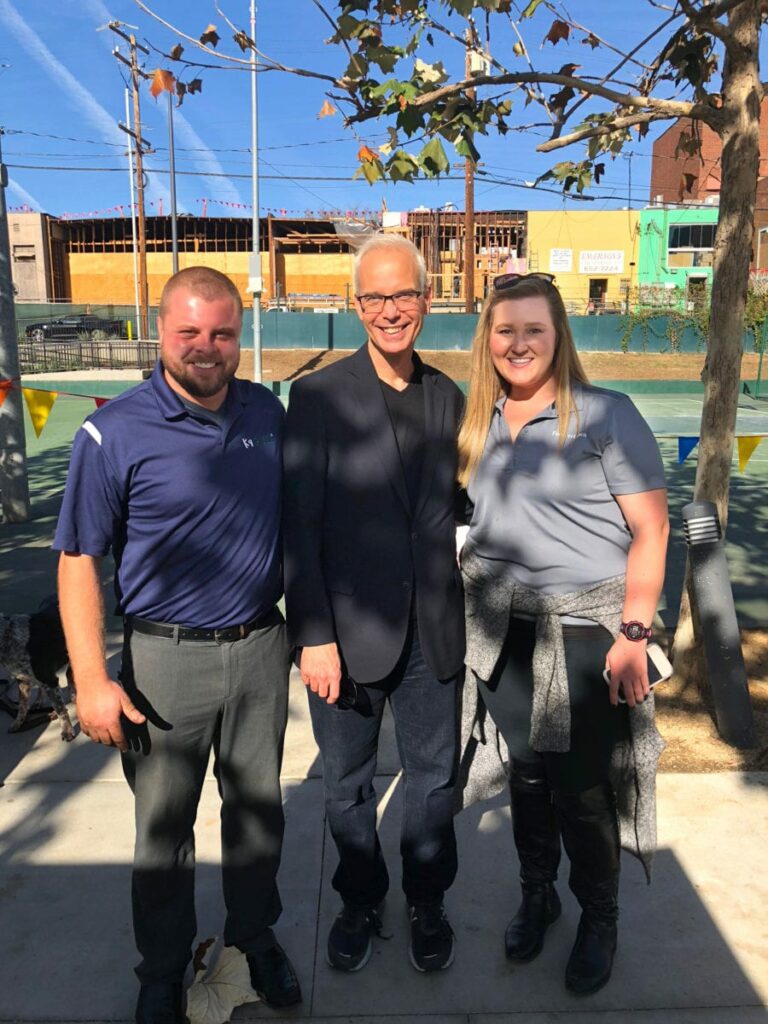 January 13, 2018 (West Hollywood, CA) – The ribbon cutting ceremony for the new dog parks at West Hollywood Park featuring K9Grass by ForeverLawn took place Saturday January 13th. Beth and Corey of ForeverLawn Pacific Coast were able to attend the ceremony where West Hollywood Mayor John Heilman gave a speech recognizing the innovation and integrity of K9Grass by ForeverLawn.
Beth and Corey estimate that there were nearly 300 people in attendance making this the most attended ribbon cutting ceremony in West Hollywood. People of the community have long been anticipating the opening of a new dog park for their beloved pups. A city official estimated that there are roughly 2,000 dogs in the area, meaning there are plenty that will be coming to the parks to play in the warm, California sun.
K9Grass is installed in both dog parks, one small park that's approximately 4,000 square feet and one large park that's approximately 7,000 square feet. Each dog park is gated and fenced-in with expansive open spaces, shade trees, mounds, and terraces—all thoughtfully placed for the dogs to enjoy.
"People have been asking me, "What about this grass? This grass is amazing!" Well it's actually not grass. It's a specially formulated K9Grass artificial turf. It is specially designed for dogs, it is environmentally safe for dogs and their guardians, there's no rubber or composite infills, the blades of grass have antimicrobial protection and they are designed to stay cool and not burn our little doggies' paws," says Mayor John Heilman.
The addition of these two dog parks is just a small part of the West Hollywood Park redesign. Mayor Heilman explains that they are in the second phase of construction on the park, with plans for an aquatic and recreation facility with two rooftop pools, multiple basketball and volleyball courts, and new playgrounds for the children.
"We couldn't do this without great contractors, Gerard Sinanian and Greg Penta from Sinanian Development; They're the ones who are actually doing the day-to-day construction work and I want to thank them for their hard work. The subcontractor K9Grass—that's a cute name!—and the construction management company, Heery International," says Mayor Heilman. "The two new off-leash dog parks here at West Hollywood are now open today. We are thrilled to see them and we know that there are a lot of happy dogs in the city of West Hollywood and some pretty happy pet guardians."
We couldn't be happier with how the two dog parks turned out and we're so proud of the team at ForeverLawn Pacific Coast for helping with this great community project.
Watch this video from WeHoTV to learn more about how K9Grass was used in this beautiful West Hollywood project!
About ForeverLawn
ForeverLawn provides innovative synthetic grass products to create better landscapes worldwide. In areas where real grass is difficult to grow or maintain—due to high traffic or poor conditions—ForeverLawn offers a realistic alternative that is beautiful, functional, and durable. In addition to its superior landscape line, ForeverLawn® Select Synthetic Grass, ForeverLawn also offers specialty products including K9Grass®, SportsGrass®, Playground Grass™, GolfGreens®, and SplashGrass™.
ForeverLawn—Grass without limits.