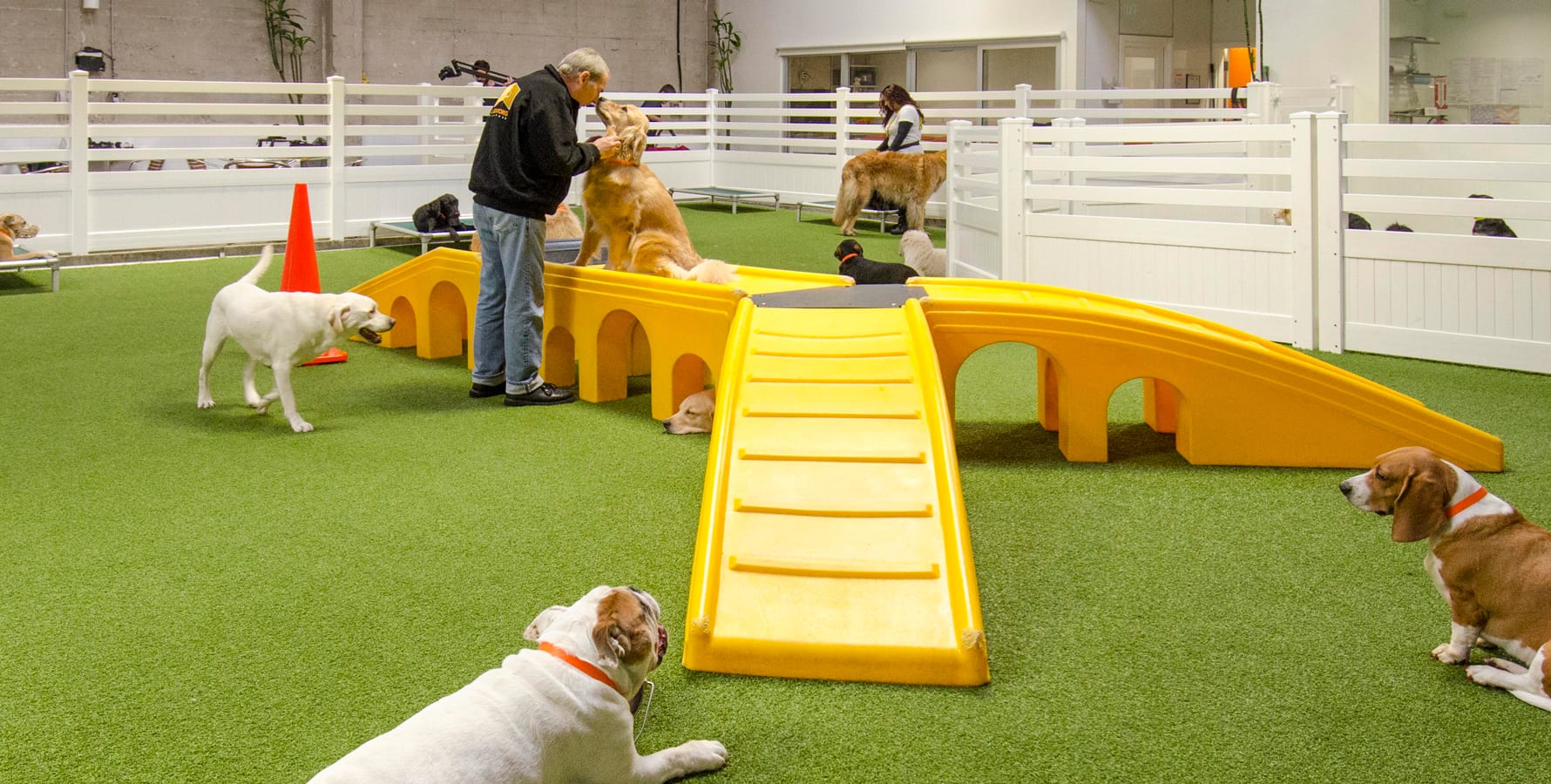 ForeverLawn Issued Patent for K9Grass Flushing System
August 17, 2017 (North Canton, OH) – ForeverLawn, the leading synthetic turf company, announced the U.S. Patent and Trademark Office issuance of a patent for their invention to enhance a superior synthetic grass system for dogs. The K9Grass Flushing System (KFS), covered by patent US 9,670,626, incorporates a unique synthetic turf called K9Grass, and combines it with a hidden cleaning and drying system that provides an ideal surface for dog boarding facilities, pet resorts, dog parks, kennels, veterinary facilities, and more. The invention allows for effective indoor use of K9Grass for dogs, and provides exceptional drainage and cleaning mechanisms for dog environments both indoors and out.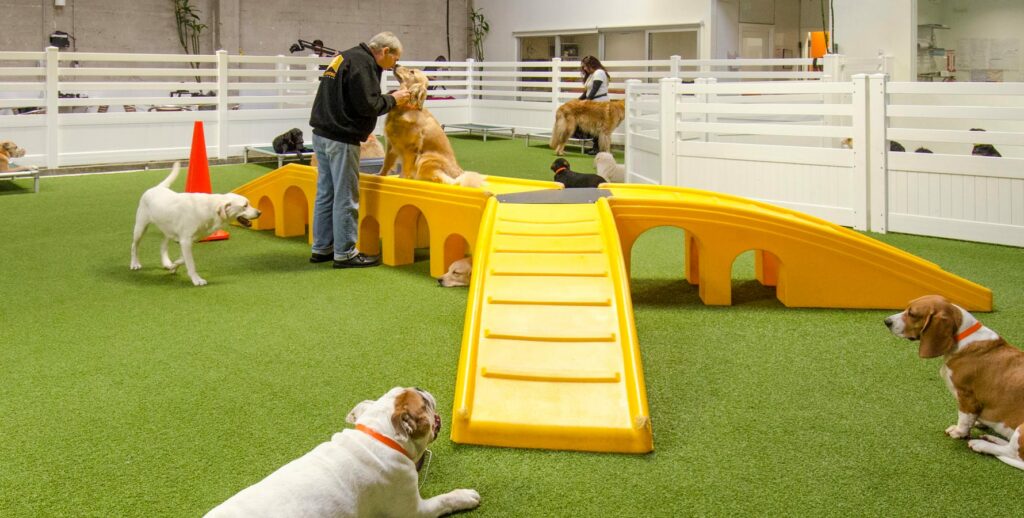 Known for their commitment to innovation, quality, and integrity, ForeverLawn has installed the now-patented system in pet facilities across the world over the past 11 years. Developed by three brothers, Dale, Brian, and Ken Karmie, this revolutionary invention changed the way that dog spaces are created, by offering a surfacing system over solid, impermeable surfaces that is specifically designed to handle the unique needs of dogs.
"The K9Grass Flushing System is a turnkey solution unlike anything available in the pet industry—or the world," said Ken Karmie. "We are extremely pleased that the patent office recognized the unique nature of this system, and granted ForeverLawn this patent."
The KFS starts with the one-and-only K9Grass, a drainable, durable, infill-free synthetic grass product designed specifically for dogs. Invented by ForeverLawn in 2005, K9Grass was the first synthetic grass product created for dog use. Over six million square feet of K9Grass has been installed at dog facilities, dog parks, veterinary clinics, and private residences since, and its population continues to grow.
K9Grass has several unique features that make it ideal for dog environments. The knitted construction provides instantaneous edge-to-edge drainage at rates of up to 100 times that of typical turf. This is a significant advancement over common tufted artificial grass that can hinder drainage of dog urine and other liquids. The AlphaSan® antimicrobial technology built into the blades contributes to cleanliness and safety. Unlike common synthetic turf, K9Grass does not require infill, which makes cleaning the grass more effective, and prohibits pet waste from being trapped on the surface.
K9Grass also offers superior durability against wear and tear. The knitted backing secures the blades more effectively than standard urethane backing, making it resistant to digging and chewing. While K9Grass is routinely installed over an aggregate base, the KFS incorporates a floating grid base, the proprietary ForeverLawn AirGrid 3, to allow proper airflow and drainage under the grass. Similar to flushing a toilet, the KFS dilutes urine and residual waste while moving it to the drain and out of the facility. This system, with the combined use of recommended cleaning equipment, revolutionized the industry by creating a method for using K9Grass over solid surfaces for indoor applications.
AirGrid 3 is a critical component to the success of this system. "We initially worked with many grid products available on the market, but nothing met the requirements," said Karmie. "We spent over two years and dedicated a great deal of resources working with engineers to create this truly unique grid product. It is exciting to see the investment pay off."
The patent was written and prosecuted by the patent law firm of Martin & Ferraro, LLP. "It was a pleasure to work with the Karmie brothers and assist them with obtaining patent protection on their improved floor construction," said patent attorney Thomas Martin. "In my opinion, it is the desire at ForeverLawn to continue improving the products and services they offer that drives the company's innovation and creativity. With their focus on improving their customers' experience when using their products innovation naturally follows. We can't wait to see what they come up with next."
About ForeverLawn
ForeverLawn provides innovative synthetic grass products to create better landscapes worldwide. In areas where real grass is difficult to grow or maintain—due to high traffic or poor conditions—ForeverLawn offers a realistic alternative that is beautiful, functional, and durable. In addition to its superior landscape line, ForeverLawn® Select Synthetic Grass, ForeverLawn also offers specialty products including K9Grass®, SportsGrass®, Playground Grass™, GolfGreens®, and SplashGrass™.
ForeverLawn—Grass without limits.