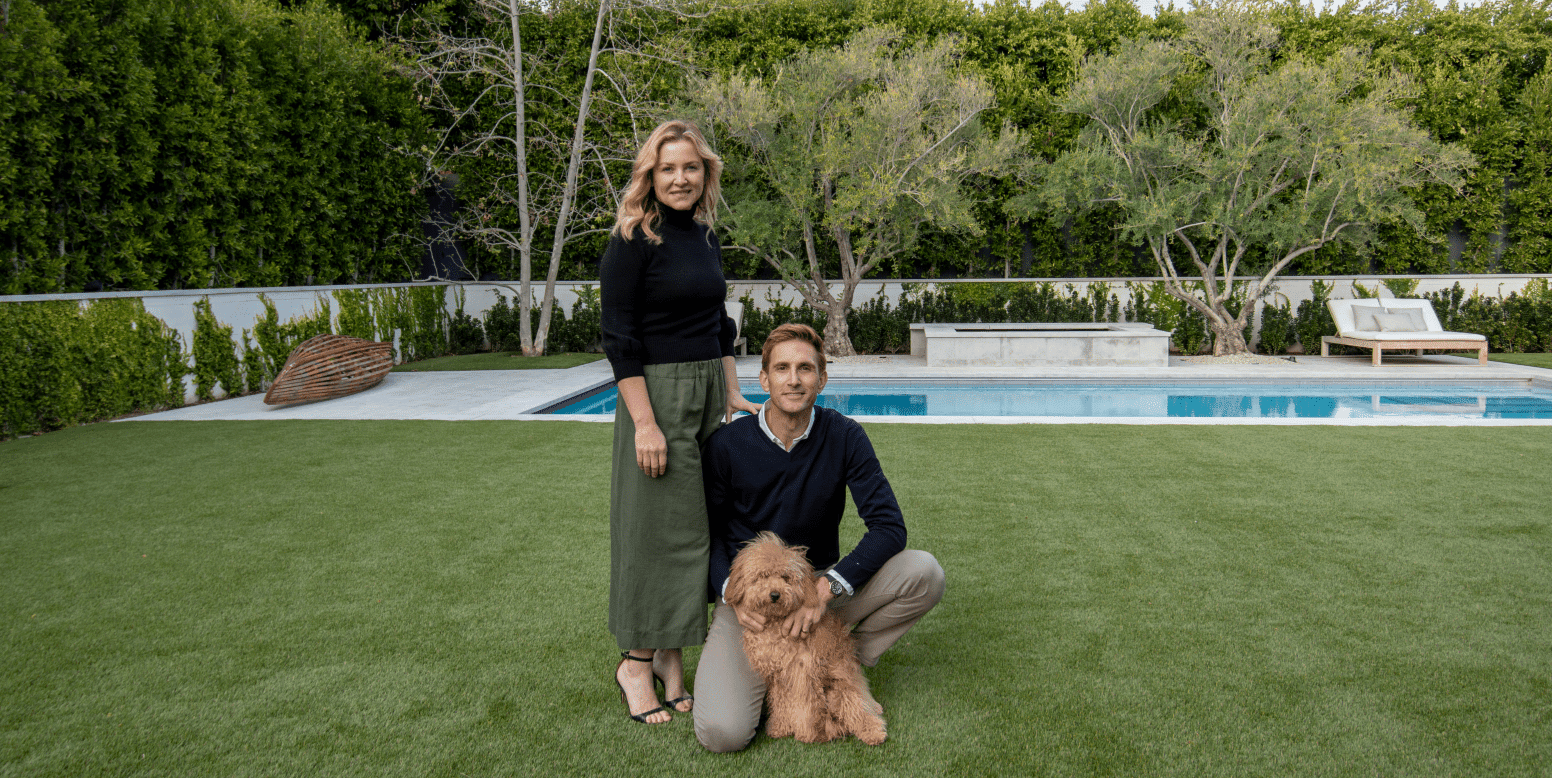 Christopher Gavigan and Jessica Capshaw Choose ForeverLawn Artificial Grass Once Again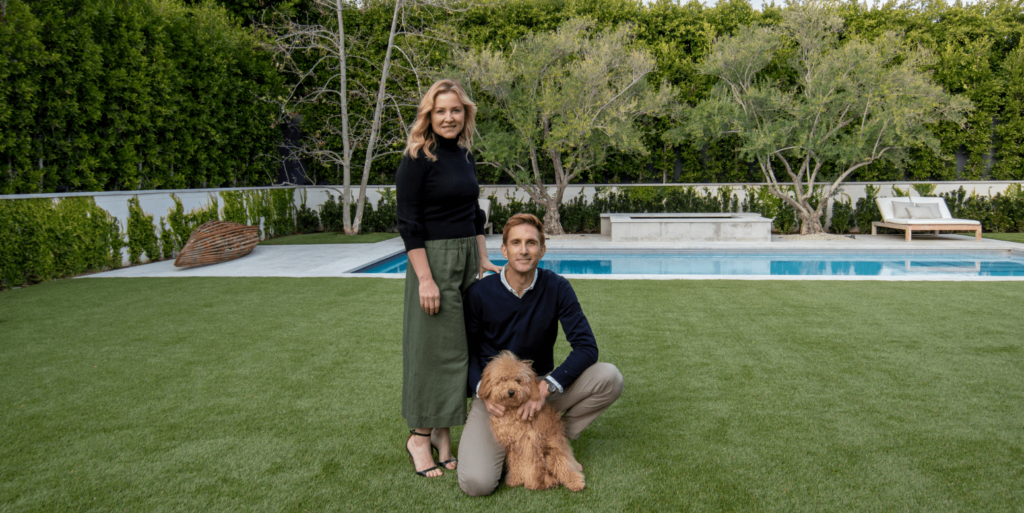 You use his products, you've seen her on television, and now you're seeing them pop up in our featured projects! Power couple Christopher Gavigan and Jessica Capshaw came to us for a second ForeverLawn® artificial grass installation, this time at their new Los Angeles home.
Choosing Fusion
Gavigan and Capshaw originally chose ForeverLawn to transform their backyard not just because of our superior products, but because of our dedication to safety and environmental stewardship. Gavigan is the Founder and Chief Products Officer of The Honest Company where he develops natural products that are safe, high quality, and health-conscious. That being said, safety and environmental impact are two major points of importance to Gavigan, especially when it comes to the yard where his children play.
The couple chose ForeverLawn® Select VR for their previous Santa Monica home, but wanted something different and cutting-edge for their new backyard. Gavigan said, "We reached out to ForeverLawn and asked, "What's new, what's great, what's innovative? What's on the cutting edge of this artificial technology?"" That's ForeverLawn Fusion—our revolutionary new product that contains our proprietary Legacy Fiber™ yarn, offering an unmatched combination of durability and realism along with a uniquely high level of heat resistance. The heat resistance in particular was important to Gavigan and Capshaw because their new house has all low-E windows, which are known for causing light-reflective issues on grass.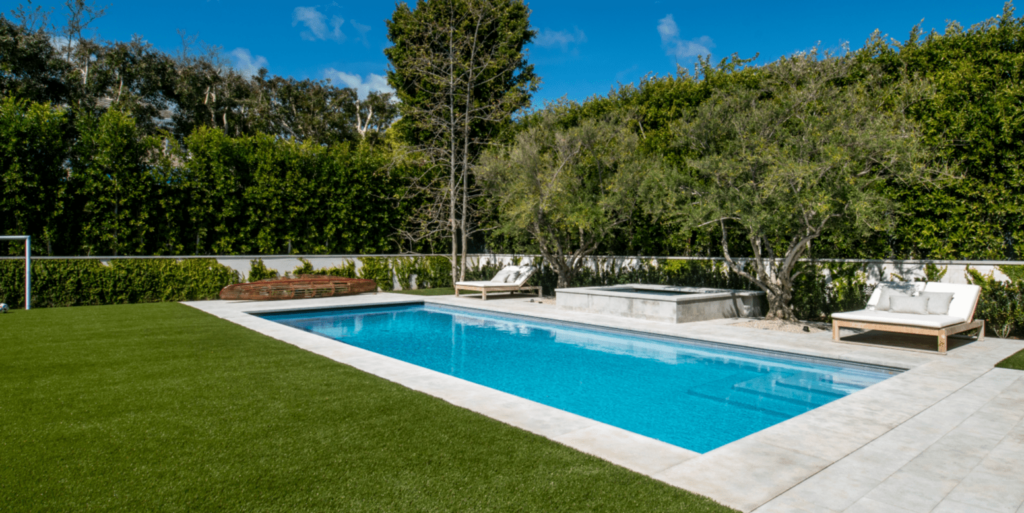 A Ready-to-Use Backyard
When Gavigan and Capshaw first moved to their new home, they had a perfectly beautiful natural grass backyard. It looked great but it seemed that every time they wanted to play or entertain, the grass was wet and muddy! Fusion now provides them with a low-maintenance backyard that's safe for their four kids and dog Gus, and it's always ready to use. Plus, the family doesn't have to worry about contact with harmful chemicals that often come along with natural grass. Gavigan said, "I feel really comfortable knowing he's (Gus) not tracking in any of the fertilizers or chemicals or any of the stuff that would be on his body."
In addition to requiring less work to maintain the lawn, Fusion also helps cut down on maintenance for the pool. "Having it around the pool is unbelievable because you don't have any of what is sort of the ick factor … you don't have muddy feet, you don't have blades of grass …," says Capshaw.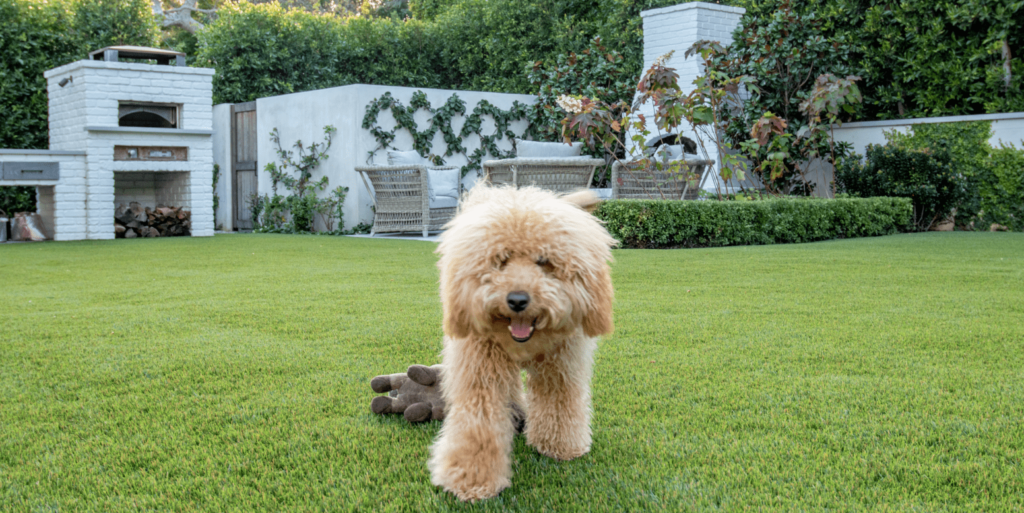 About ForeverLawn
ForeverLawn provides innovative synthetic grass solutions to create better landscapes worldwide. In areas where real grass is difficult to grow or maintain—due to high traffic or poor conditions—ForeverLawn offers a realistic alternative that is beautiful, functional, and durable. In addition to its superior landscape line, ForeverLawn® Select Synthetic Grass and ForeverLawn Fusion, ForeverLawn also offers specialty products including K9Grass®, SportsGrass®, Playground Grass™, GolfGreens®, and SplashGrass™.
ForeverLawn—Grass without limits®.