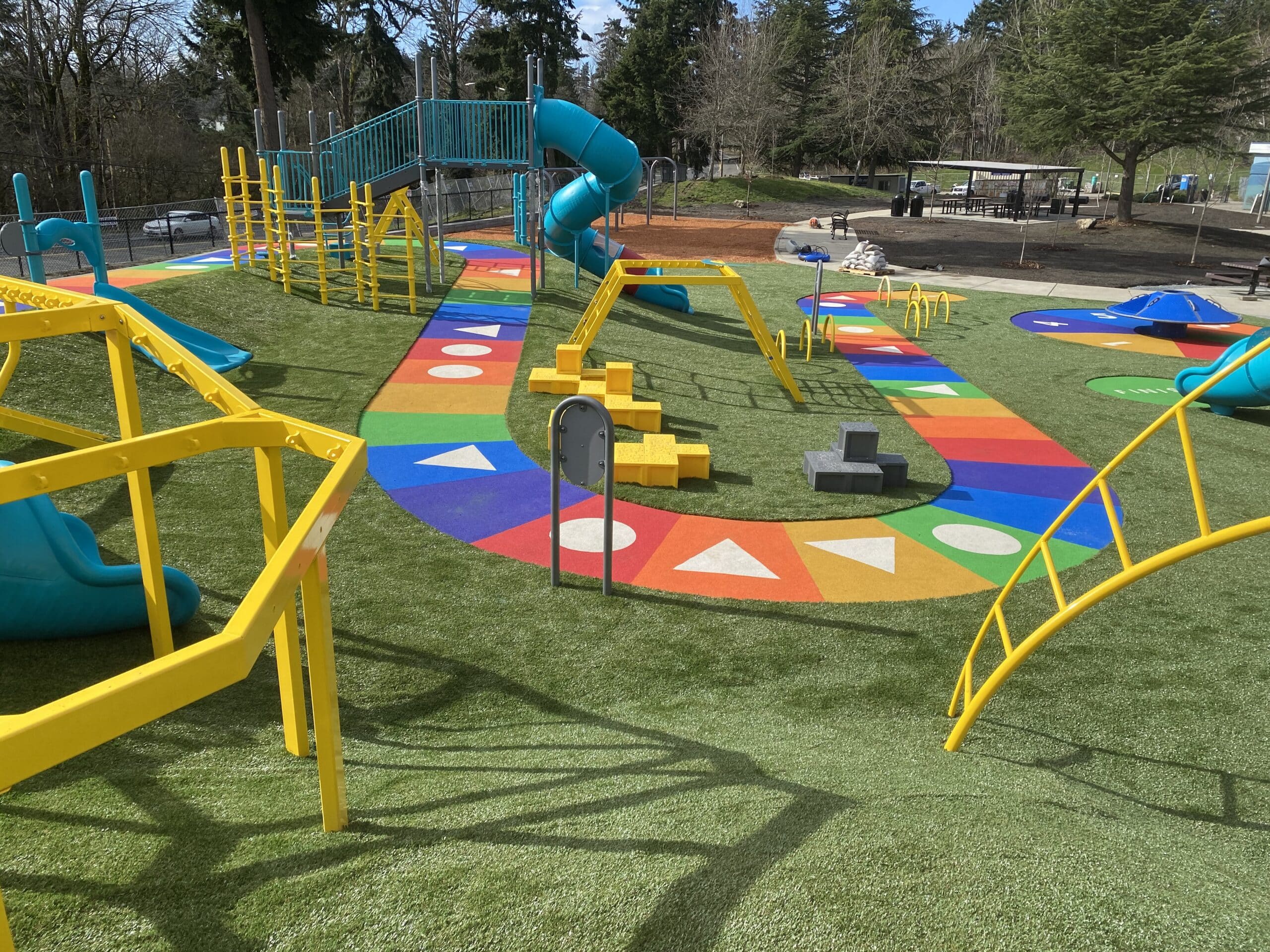 West Fenwick Park
West Fenwick Park located in Kent, Washington contains a playground surfaced with over 8,800 square feet of Playground Grass Academy, which was installed by ForeverLawn Puget Sound. The play space sits on a hillside and incorporates several unique elements, such as elevation changes, the aforementioned synthetic turf, and poured-in-place Chutes and Ladders inlays.
The primary attraction of the playground is the Chutes and Ladders game that allows children and parents to explore the turf surface and exercise their creativity. The playground features not only themed inserts, but also themed equipment, further adding to the utility and transformational nature of the project. Outfitted with several slides and ladder-like climbing structures, the space also includes a spinner that further emulates aspects of the board game. Aside from thematic equipment and inserts, the elevation changes foster additional inspiration for play and recreation and allow children with disabilities or handicaps to enjoy the features available.
The playground stars as the centerpiece of the park's total renovation, a project that was finished in April of last year. From an article in the Kent Reporter to the cover of Playworld's 2022 Catalog, the playground has received ample coverage in media, and has collected a great deal of support and acclaim from children, parents, and local patrons and publications. Integration of inlays and themed equipment on this ADA-compliant play space highlight how ForeverLawn consistently innovates and redefines synthetic turf. These solutions presented customizable options for increased satisfaction and originality, offering a safe, durable, and realistic space where Kent families can connect and engage. By providing an accessible, beautiful, creative area for children of all ages and abilities to enjoy, ForeverLawn Puget Sound helped revitalize a civic space and reinvigorate a sense of pride and play in the community.
Products Used
Playground Grass Academy
Project Type
Park Playground